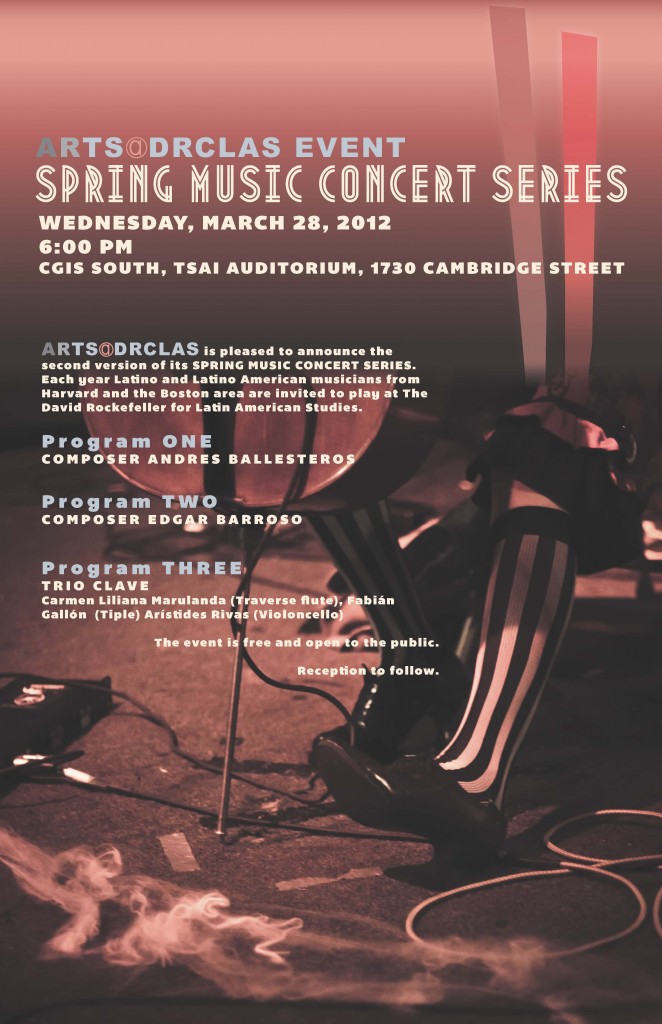 Date: Wednesday, March 28, 2012
Time: 6:00 pm
Location: CGIS South, Tsai Auditorium, 1730 Cambridge Street, Cambridge
Contact: Marcela Ramos, mvramos@fas.harvard.edu
ARTS@DRCLAS is pleased to announce the second version of its SPRING MUSIC CONCERT SERIES. Each year Latino and Latino American musicians from Harvard and the Boston area are invited to play at The David Rockefeller for Latin American Studies.
Program 1: Composer Andres Ballesteros
Nora and Reshma's Magical Tandem Bike Ride
Sin Tregua
Program 2: Composer Edgar Barroso
ACU – Electroacoustic piece
Kapsis – For Video and Electronics
Binary Opposition – for video and electronics
Program 3: Trio Clave: Carmen Liliana Marulanda (Traverse flute), Fabián Gallón (Tiple) Arístides Rivas (Violoncello)
Gloria Beatríz – Bambuco de León Cardona
Bochicaneando – Bambuco de Luis Uribe Bueno
El Sanjuanero Huilense by composer Anselmo Durán.
Marielena – Danza de José A. Morales
Carito – Bambuco de Luis Carlos Saboya
El Patasdilo – Pasillo de Carlos Vieco Ortíz
All arrangements by Carmen Liliana Marulanda, except Carito, by Lucas Saboya.
The event is free and open to the public.
Reception to follow.