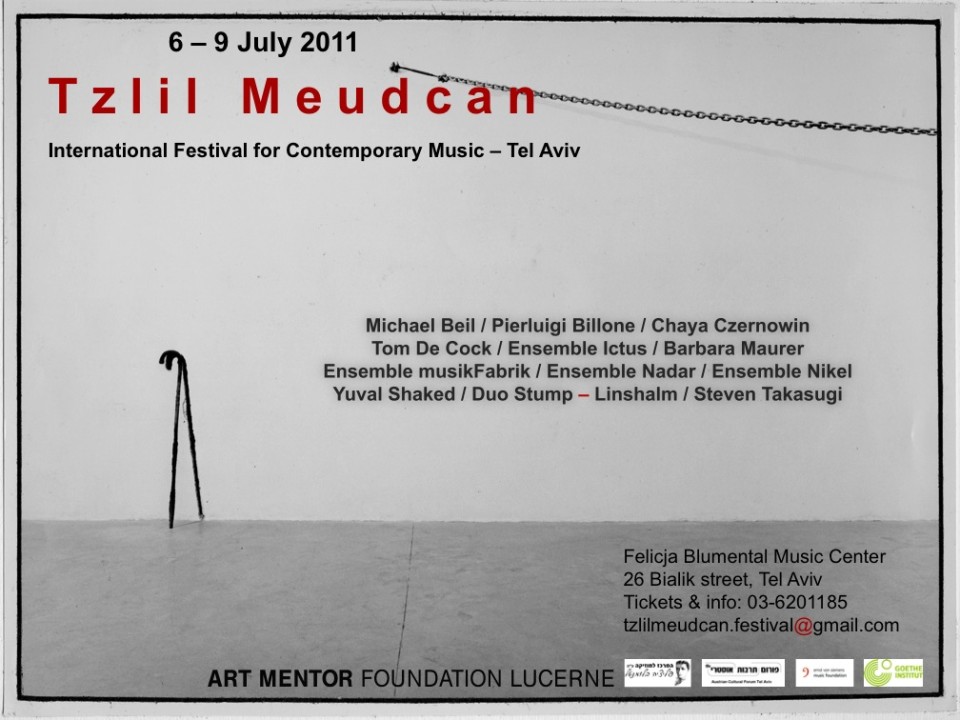 Dear audience,
I am happy to present you with the 5th edition of the Tzlil Meudcan Festival and Summer Course due to take place in Israel from June 29th to July 9th 2011.
With this edition we are much honored to host musicians from Ensemble Ictus, Ensemble musikFabrik, Ensemble Recherche, Clarinet Duo Stump-Linshalm, Ensemble Nadar & Ensemble Nikel together with composers Michael Beil, Pierluigi Billone, Chaya Czernowin & Steven Takasugi among others.
By default, as Tzlil Meudcan bears within its structure a summer course platform, the program has the tendency of slipping into eclectic outbursts of various, even contradicting, aesthetics. This is actually an encouraged result on our behalf and together with it, as "stabilizers", are placed artistic anchors, giving a structural foundation to the program, showcasing what we believe to be interesting, relevant and exciting for our audience to experience.
Mostly, these stabilizing reference points are reflected in each year's choice of Composer in Focus. This edition it will be the Italian composer Pierluigi Billone who will attend the festival as our guest, having a number of works present in the program, giving a presentation of his music, participating in an open talk moderated by composer Yuval Shaked, who will also give a lecture titled, "Ritualistic Tactility" addressing the works of Mr. Billone.
Closing it all down is the emphasis put on performances of works from the passing decade by both established and young prominent composers, with the highlight of 8 new works written by the 8 chosen composers who were invited to take part at the summer course program led by composers, Chaya Czernowin & Steven Takasugi.
All works were incorporated in the festival program and will be performed by musicians of the above mentioned ensembles. These musicians throughout the summer course period were also teaching performance students who are also taking part at the festival, presenting various daring and challenging repertoire by some of the canonic figures of our current time.
We happily invite you to view below the festival's program and more important to take time and join us in Tel Aviv for our days of festivity.
Sincerely yours,
Yaron Deutsch
Director,
Tzlil Meudcan – International Festival & Summer Course for Contemporary Music