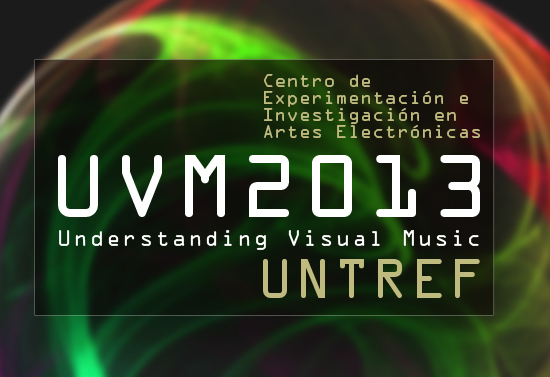 "Binary Opposition" for Video and Electronics by Edgar Barroso from Edgar Barroso on Vimeo.
The Electronic Arts Experimentation and Research Centre – CEIArtE (Centro de Experimentación e Investigación en Artes Electrónicas) of the National University of Tres de Febrero (Universidad Nacional de Tres de Febrero) is inviting to submit papers and artworks about videomusic to be considered for the Understanding Visual Music – UVM 2013 symposium.
The event will be coproduced with the General San Martín Cultural Centre, the Galileo Galilei Buenos Aires Planetarium and will also count with the collaboration of the National University of Lanus. The symposium will be held on August 8th and 9th of 2013, in the city of Buenos Aires, Argentina.