"Metric Expansion of Space" for Accordion by Edgar Barroso at Concert Hall Studio Foce in Lugano, Switzerland performed by Gabriele Marangoni – January 12- 2013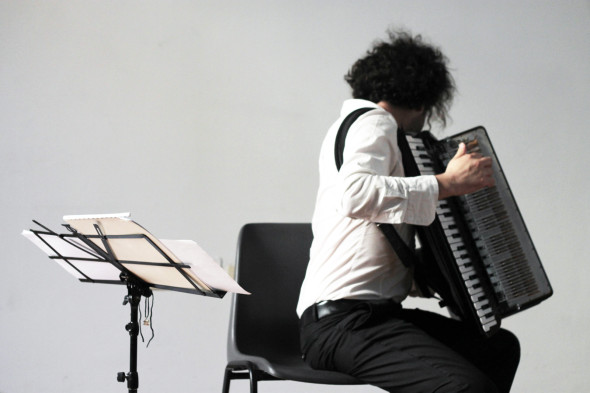 The metric expansion of space is the increase of distance between distant objects in a space that is constantly expanding, like the universe. Even though the universe is expanding, is not expanding into anything outside of itself. I imagine this expansion as very violent and extreme. The piece expands certain material into itself, a sort of a force that is trying to reach the unreachable, but has no place to go but to return to his own mass. With an obsessive obstinate rhythmic structure and with spasms of energy that revolves in its own velocity, range and capacity, the accordion becomes a machine which receives a non-stop stream of energy from the player. These bursts of energy can be measured between several nearby points in space with a very precise compositional strategy. The piece uses amplification as a continuation of the idea of being continuing expanding. I can't think of a better performer than Corrado Rojac, he is energetic, precise and yet sensitive to convey the beauty raised from an obsessive behavior. We are very lucky to have him with us.
This entry was posted on Wednesday, December 19th, 2012 at 1:08 pm. It is filed under acousmatic, Composition, Composition Competitions, composition sompetitions, Concerts, Conferences, Cross Disciplines, Digital Art, Docencia, Edgar Arturo Barroso Merino, Electroacoustic, FILM MUSIC, Gestión Cultural, Improvisation, Installation, Interdisciplinary, Interdiscipline, Live Electronics, Music Composition, Opinión, Prizes, Publications, Radio, Teaching, Transdisciplinary Collaboration, Video, Workshops. You can follow any responses to this entry through the RSS 2.0 feed.