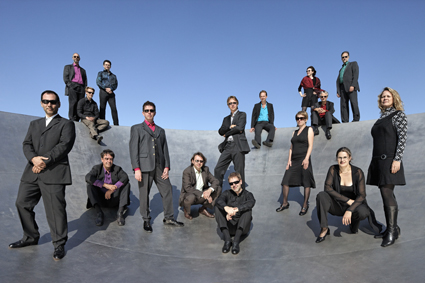 Conducted by Yordan Kamdzharov

OVER-PROXIMITY
For Flute, Clarinet, Horn, Trombone, One Snare Drum, Two Maracas and Piano.
We are now so close to each other. Social networks have been sharing our lives, ideas, pictures, videos to the world since some years ago. These hyper-connectivity has created the possibility to maintain relationships that otherwise would not be possible, such as long distance relationships and online collaboration. Nonetheless, despite all these advantages, this over-proximity to our lives, has brought a new form of stress to society. What we published in these networks could make somebody else uncomfortable, upset, even miserable, and could be someone that you don't even know. Your "happiness" expressed in your pictures, could be a trigger of someone else's depression at the other side of the world. People are now comparing to one another constantly. This piece is an exploration of musical materials that are too close to each other, either rhythmically, energetically, or referring to pitch content. This piece is a personal reflection on the consequences that we produce when we published something on the web. The music material was created thinking in the Over-Proximity idea of having people looking at others people's lives. A given in today's world.
Inspired by Slavoj Zizek idea of over-proximity and social networks in the new social revolution yet to come.
"Why are we so traumatized by the neighbor's over proximity? Habit and custom are the predominant ways in which we maintain a distance towards the "inhuman" neighbor's intrusive proximity, and we are today effectively witnessing a decline of habits: in our culture of self-exposure and "sincerity", they no longer provide a screen ensuring our distance from the neighbor."
Slavoj Zizek "Living in the End Times"