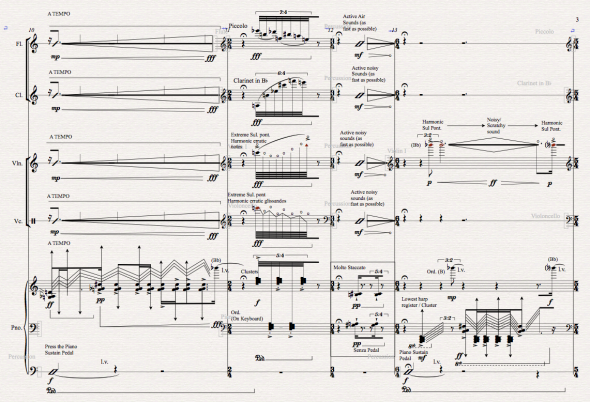 Listen to the recording:
Commissioned by the International Cervantino Festival based on the city of Guanajuato – Mexico. "Kuanasi Uato" comes from two words that formed the current name of this city: Kuanasï and Uato from the Purepecha language. The name means "hill of frogs". It was given this name because for the ancient Purepechas, it seemed that they were shaped like frogs. Because of the geographical characteristics of the city, where you can only access the city going through tunnels, the contrast in environmental changes is dramatic. Therefore contrast is very important in the piece. Kuanasi Uato is made up of different materials that collide against one another, separated, incapable of mixing. Throughout the piece, sound starts modeling the interaction among these materials until they get trapped in a flow of events which overlap constantly. This overlapping of energies create a vocabulary of gestures that compose the entire energy profile of the piece. This energy, and this piece is a sort of melancholic homage to Guanajuato, where I did my undergraduate studies and where I have dear friends and family.
——————
Comisionada por el Festival Internacional Cervantino 2012 en la ciudad de Guanajuato. "Kuanasi Uato" viene de dos palabras que forman el nombre actual de esta ciudad: Kuanasï y Uato de la lengua purépecha. El nombre significa "cerro de ranas". Se le dio este nombre porque para los purépechas, las montañas parecían que tenían forma de ranas. Debido a las características geográficas de la ciudad, donde sólo se puede acceder pasando por túneles, el contraste de los cambios ambientales es dramático. Por lo tanto, el contraste en el material sonoro es muy importante en la pieza. Kuanasi Uato se compone de diferentes materiales que colisionan unos contra otros, separados, incapaces de mezclarse o integrarse. A lo largo de la pieza, el sonido mismo empieza a modelar la interacción entre estos materiales hasta que se quedan atrapados en un flujo de eventos musicales que se superponen constantemente. Esta superposición de las energías, comienza a crear un vocabulario de gestos que componen el perfil energético de la pieza. Esta energía, y la pieza es una especie de homenaje melancólico a Guanajuato, donde hice mis estudios de grado y donde tengo amigos y familia muy queridos.