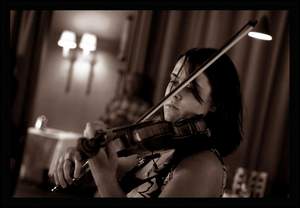 The superb violinist Gabriela Diaz will be in charge of the premiere.
Gabriela Diaz: This violinist holds undergraduate and graduate degrees in violin performance from the New England Conservatory, where she studied under James Buswell. She received numerous honors at the conservatory, including the Chadwick Medal, the highest recognition given to a graduate of NEC, and the John Cage Award. She is now actively involved in contemporary music concerts at the New England Conservatory, Harvard University and MIT. She is a member of the Callithumpian Consort, Radius, Firebird and White Rabbit Ensembles.
Listen to the piece in the WORKS section.
John Knowles Paine Concert Hall
December 10-11 2009